Your Guide to Waterfalls in Upstate S.C.
It's finally that time of year when the weather is getting nice and it's starting to warm up in the Upstate of South Carolina. It's no secret that the Upstate is full of waterfalls, but did you know we are known for having one of the highest concentration of waterfalls in the United States? The specific area is called the Blue Ridge Escarpment, also known as "The Blue Wall." The Blue Wall rises 3,554 feet at its highest peak and spans around 20,000 acres through South Carolina, North Carolina, and Georgia. Many of the waterfalls are located in Oconee, Pickens, and Greenville Counties, this area has an average rain fall of 80 inches which creates beautiful rushing waterfalls. We did some reading and spoke to a couple of locals to create a list of a of waterfalls in each area of the Upstate that are perfect for every kind of adventurer!
Click on the section heading to be directed to one of the many state parks found in that county.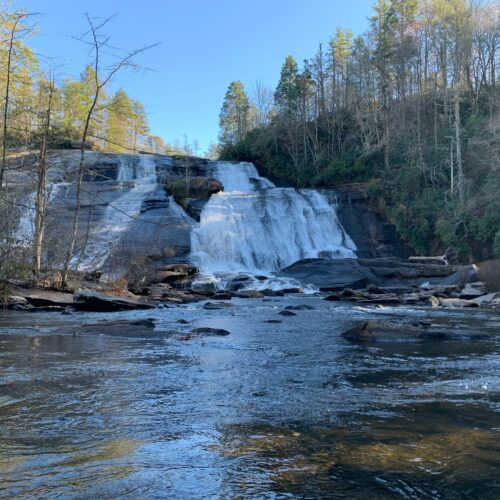 Oconee County is also known as "The Golden Corner" and it runs along the Chattooga River and marks the border between South Carolina and Georgia.
Bee Cove Falls: This waterfall is divided into four sections. The hiking distance is about 2 miles to see all four and the hike is considered difficult.

#1. 40 foot waterfall
#2. 30 foot waterfall
#3. 40 foot waterfall
#4. 20 foot waterfall

Big Bend Falls: This 30 foot waterfall gets its name from the hairpin curve where it is located on the Chattooga River just before the falls. The hike to Big Bend is almost three miles and is considered an easy hike. The shoreline of the river below the falls is beachy and boulders where you can relax, have a snack, or take a swim after your hike.
Brasstown Falls: This series of three waterfalls is located on the edge of Sumter National Forrest. It is a quick hike, only .3 miles to see all three but is not recommended for new hikers!

Cascades: 50 feet
Veil: 35 feet
Sluice: 35 feet

Disappearing Falls: This 12 foot waterfall is one of the more interesting waterfalls in the upstate. At first glance, it appears to be a small stream, but when you get closer there is a 12 foot drop over a black granite rock, the water ends up in an underground stream.
Hidden Falls: This 60 foot waterfall is best viewed after a rainy day and was unnamed until 1995. The hiking distance is a little over two miles and is considered a moderate hike.
Issaqueena Falls: This 100 foot waterfall is one of the easiest to access in South Carolina. Just a 10 minute hike, perfect for all kinds of hikers!
Whitewater Falls: This 200 foot waterfall is located north of Salem. There are two major falls, and it is considered the highest series of falls in North America.
Pickens County is known as the upper Eastatoee Valley. Eastatoee is a Cherokee word that translates to Valley of the Green Bird, which is a reference to the now extinct Carolina Parakeet. Pickens County is located he northwest part of the U.S. state of South Carolina, between Greenville and Clemson and up to the North Carolina border.
Carrick Creek Falls: This 15 foot waterfall is an easy .2 miles hike in Table Rock State Park.
Eastatoee Gorge Falls: This 25 foot waterfall is an amazing sight after a difficult 2.5 mile hike. The fall is at the point where the 15 foot wide river is forced into a three-foot-wide sluice.
Gauley Falls (also known as Sliding Rock Falls): This is a 12 foot waterfall that is made up of a series of large boulders that the water flows over. There is no need to hike to get here, it is located right off the golf course at The Rock at Jocassee.
Mill Creek Falls: This waterfall is divided into two parts, upper and lower.

Upper: This 25 foot waterfall is about a three mile hike that will take you to the bottom of the falls so you can look straight up at it.
Lower: This 50 foot waterfall is technically located on private property, but can be seen taking a quick road side break on your way to Table Rock State Park.

Pinnacle Mountain Falls: This 100 foot waterfall is a 1.4 mile hike through a rough trail but is totally worth the view. This multi-tiered waterfall runs over rocks and fallen trees.
Todd Creek Falls: This 20 foot waterfall is breathtaking and only a 20 minute hike.
Twin Falls: This 75 foot waterfall is located an easy ¼ of a mile hike, it even has a viewing deck with seating. If you visit after a heavy rain, you can sometimes see a third waterfall to the right of the falls.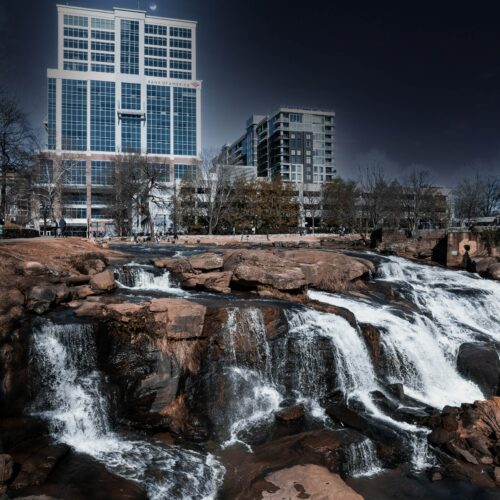 Greenville County is located north of Pickens and Oconee Counties. The waterfalls in this area are surrounded by a rich history of mountaineers in the Upstate.
Ashmore Falls: This 150 foot waterfall is located in the Ashmore Heritage Preserve. While it is only a short walk to be able to see the waterfalls, if you want to get a closer look, you'd have to hike a bit further into the steep terrain.
Drip Rock Falls: This 12 foot waterfall is located right on the side of the road and is best viewed during the winter months. The slow flowing water creates beautiful large icicles in the winter.
Falls Creek Falls (not to be confused to Fall Creek Falls): This 125 foot waterfall is a 1.2 mile hard hike in Westminster, SC and is one of the most unique waterfalls in the Upstate.
Firewater Falls: This 20 foot waterfall is located 1 mile into a Caesars Head State Park. The name came from an old moonshine still that once was on top of the granite shelf.
Jones Gap Falls: This 50 foot hike is located only one mile down a well maintained hiking trail. The water flows over many multi-colored ledges of granite.
Mashbox Falls: This 80 foot waterfall is a difficult hour long hike near Caesars Head State Park. This waterfall location is interesting because of the mashbox and two 55-gallon water drums used for making moonshine that are stuck in the ground around 300 feet from the base of the waterfall.
Rainbow Falls: This 140 foot waterfall is located a hard half mile hike in Cox Camp Creek. The hard hike is worth it to see this beautiful thin ribbon of water falling and swaying in the wind.
Reedy River Falls: This 28 foot waterfall is located in the heart of downtown Greenville. If you want to take a long or short walk on the Swamp Rabbit Trail to check it out, this waterfall is hard to miss.
There are a so many great waterfalls to visit in the Upstate. We only picked some local favorites, there are so many more to choose from! Hopefully, we've inspired you to visit these beautiful Upstate waterfalls for yourself. If you enjoyed this guide, please share it with other hikers and lovers of the great outdoors and check out some of our other guides to the Upstate. Happy adventuring!
Take a Look At Our Other Prime Realty Guides For Upstate S.C.
New Year, New List of Must Try Places in the Upstate
Kid Friendly Activities in the Upstate
Food Worth Trying in Greenville
8 Dog Friendly Places in Greenville
State Parks Not Far from Greenville
Resource:
Waterfall Hikes of Upstate South Carolina by Thomas E. King