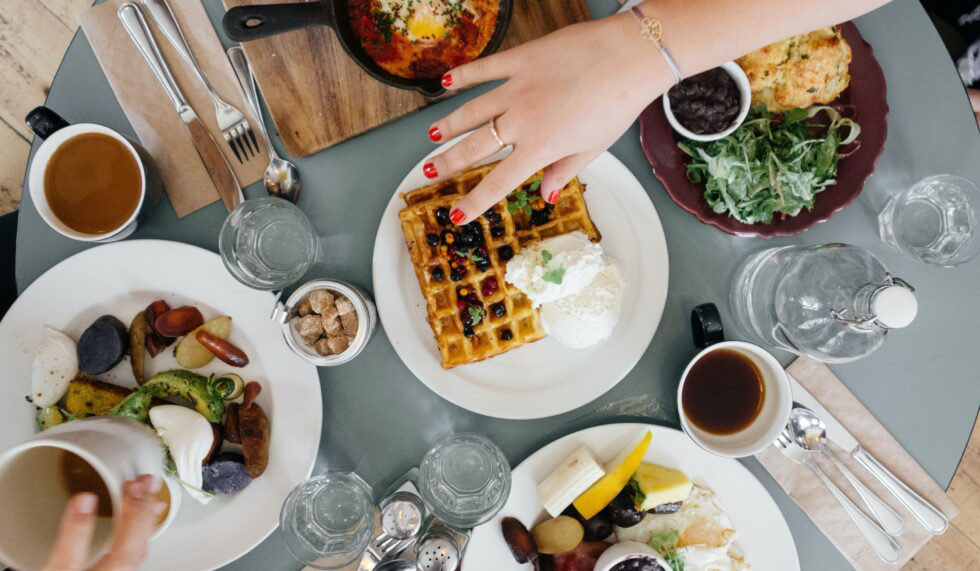 Do you ever find yourself not wanting to cook, or not knowing where to eat? It's a dilemma that everyone faces from time to time. We put together a list of restaurants in Greenville that you have to try. Whether you're from Greenville, a visitor, or someone who has just moved here, you are bound to find a place on this list that will become a new
favorite!
The Pita House ($) – With thousands of reviews on Google, The Pita House is regarded as the best Mediterranean place in Greenville. The owners and staff are known to be very kind, and the customers love the fresh baked pita bread, falafel, and shawarma. If you want something fresh for lunch or dinner, The Pita House is a great option! Pro tip: The Pita House only accepts cash or checks.
Swamp Rabbit Café and Grocery ($$) – Are you looking for somewhere to grab a quick, nutritious lunch or breakfast and coffee? Stop by Swamp Rabbit Café and Grocery. In addition to the café, they also have a bakery serving fresh-baked sweet and savory treats. When it comes to a store with local goods, Swamp Rabbit Café and Grocery is a must!
Soby's ($$$) – A high end southern restaurant located downtown, Soby's is great place to go for a nice night out. Right on the corner of E. Court and S. Main, enjoy some of Greenville's best crab cakes or shrimp and grits to end your night on the town.
Snack Works ($) – Want a classic bodega breakfast experience or just need a quick bite to start your day? Stop by Snack Works, located on S. Main across from Bowater Amphitheater. They serve classic breakfast items like: croissants, bagels, burritos, and omelets all day! Be sure to stop by sometime.
Woodside Bistro ($$) – Located on Woodside Avenue, Woodside Bistro is a great stop for lunch. Though it is only a little over a year old, this restaurant has definitely made a name for its shrimp po boy, sweet potato fries, and short rib French dip.
Kuka Juice ($$) – Located on Pendleton Street, Kuka Juice claims to be "South Carolina's finest cold-pressed juicery." Alongside their nutritious juice, they also serve as a health food market and eatery which serves smoothies, bowls, salads, and sandwiches.
The Seafood Spot ($) – If you're looking for some authentic and reasonably priced Lowcountry-style seafood, this is definitely the place to go! The Seafood Spot is acclaimed by Greenville locals and visitors alike for its fried fish, hushpuppies, and low country boil. People don't just come here for the food, but also the friendly atmosphere and great customer service.
Mextizo Tortas & Tacos ($$) – Enjoying a trip to the mall and craving some authentic Mexican food? This is the spot. Located on Haywood Road, Mextizo serves classic tacos, burritos, quesadillas, flautas, and tortas. In addition to their menu, they also have a full salsa and toppings bar along with refreshing aguas frescas.
Sassafras Southern Bistro ($$$) – Specializing in Southern cuisine, Sassafras embodies southern hospitality and class. On a night out, you could stop by the bar for hand-crafted cocktails or sit down at the restaurant to enjoy their classic dishes such as the grilled salmon and grits or the pimento cheese fondue.
Pomegranate on Main ($$) – If you're looking for a higher end Mediterranean experience, consider visiting Pomegranate on Main to try beloved dishes such as the marinated chicken and yellow rice with cranberries. The restaurant is within walking distance to Falls Park and has a gluten-free menu. POM offers vegan and vegetarian options, making it the perfect date night place!
Every place on this list is locally owned and authentic to its culture, so we encourage you to give at least one of these a try. We hope we have recommended places that are new to you. For all you know, you might just find a new gem. Bon appetit!