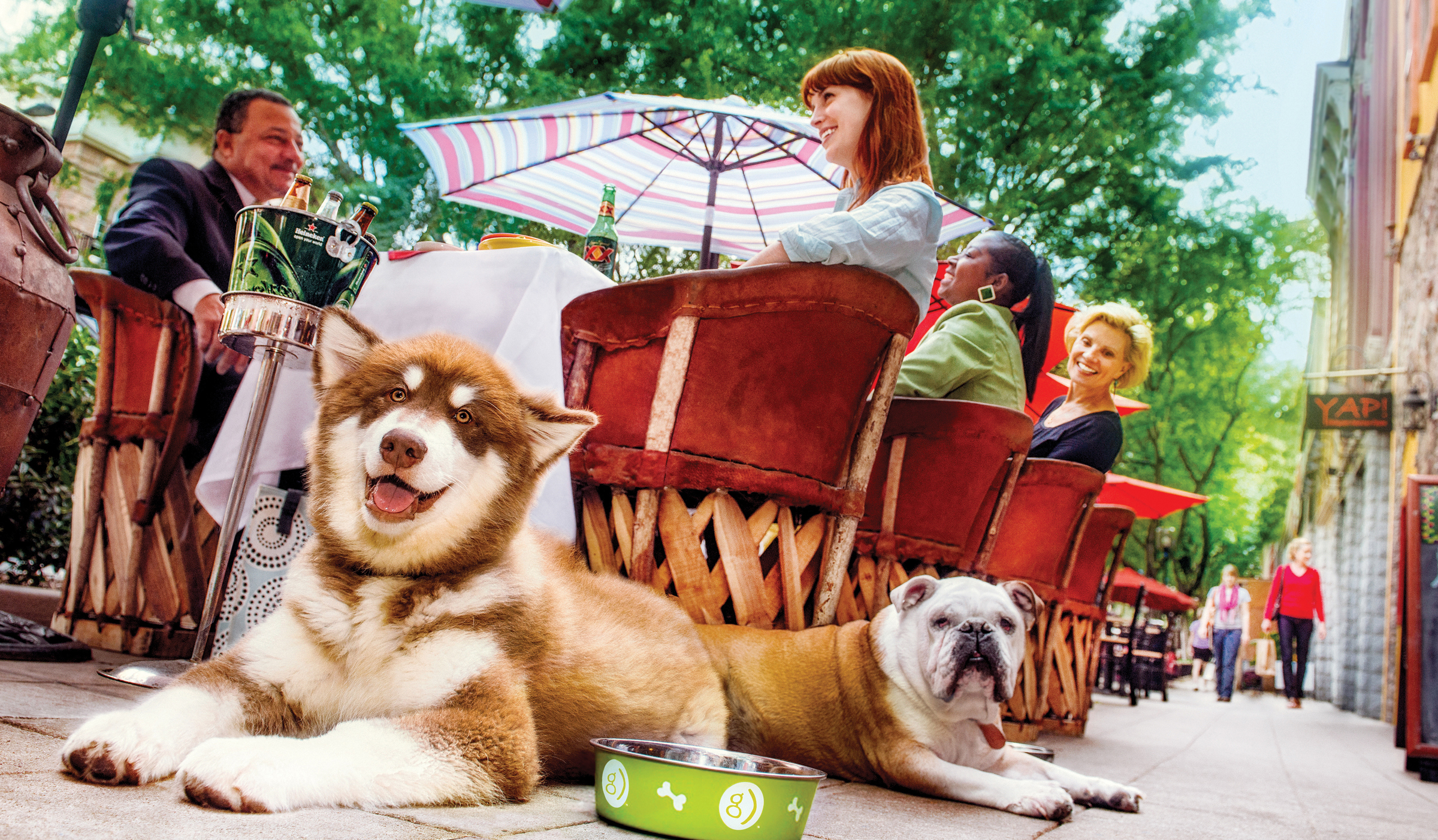 Dog Friendly Places in Greenville
No need to leave your dog at home when you live in Greenville. Greenville has shown its enthusiasm for dogs one time or another, most recently hosting The Big Dog Show earlier this year in March to July. Continue reading and bookmark your favorite dog friendly places!
Dog Friendly Greenville Restaurants
The Habitap pride themselves on their impressive section of craft beers and quality casual finger foods like pizzas and burgers. The vibe is casual, perfect for your four-legged-companion. 
Mac's Speed Shop: 930 S Main Street
Mac's Speed Shop's patio dining area is decorated with wooden picnic tables, perfectly suited for your dog to join in on the fun! If you've never been, we recommend the Pulled Pork Nachos. We promise your dog will agree and rate it a 10/10 too. 
Maple Street Biscuit Company: 18 E North Street
Weekends in Downtown Greenville are always a pick-me-up when you have Maple Street Biscuit Company. Take your dog with you next time.
Nose Dive is another gastropub in Greenville with spacious outdoor seating. Being that it's basically in the middle of Downtown, start or end the day with your pup at Nose Dive. 
Passerelle Bistro: 601 S Main Street
Passerelle Bistro serves casual French cuisine. Passerelle Bistro is generally known for having a romantic atmosphere, friendly servers, and a patio that is great for dogs with wonderful views of Reedy River. 
Smoke On The Water: 1 Augusta Street #202
Smoke On The Water is Greenville's Southern gastropub, an environment perfect to take your dog to. Located in the West End near Gather GVL Food Court, their outdoor seating faces the continual hustle & bustle of Downtown Greenville. 
More Dog Friendly Greenville Restaurants
Southernside Brewing Co.: 25 Delano Drive, Unit D
If you've been to Unity Park, there's a fair chance you have seen Southernside Brewing Co.'s lively, loud, and festive outdoor patio. Next time you're in the mood for a drink and live music, plan to visit with your friends and pets!
The Unleashed Dog Bar: 69 Rocky Slope Road
The Unleashed Dog Bar has an off-leash dog park for their furry patrons in addition to outdoor seating within a covered patio with fans and heaters, making it the perfect place to socialize any time of the year. 
Universal Joint: 300 E Stone Avenue
Universal Joint's lively and outdoor patio area is one of the more popular spots to bring your dog to. Plan a night to enjoy their relaxed vibe and American fare with your friends and pets! 
Willy Taco – Feed & Seed: 217 Laurens Road
For those times you and your friends need room for more than just your two legs, Willy Taco has an expansive outdoor dining patio perfect for your four-legged-friends! 
Downtown Greenville Dog Parks
Falls Park on the Reedy: 601 S Main Street
Falls Park on the Reedy, loved by tourists and Greenville citizens alike, is a beautiful city park that offers amazing views of the Reedy River and its waterfalls. Leashed dogs are welcome and you can take in the views from the 345-foot-long bridge that stretches along the park, Liberty Bridge. 
Conestee Dog Park: 840 Mauldin Road
The park totals in 44,000 square feet, perfect for your dog to exercise and make some furry friends. It's also near Lake Conestee Nature Preserve, which has permitted areas for leashed dogs along the nature trail. This dog park is a part of the Conestee Park Recreational Complex, meaning that if you're going to a baseball game or one of the playgrounds, you can bring your pup with you for their own playtime.
Prime Realty Will Find Your Home in Greenville, South Carolina
Dog lovers love Greenville for how dog friendly local establishments are here. In other news, are you looking to buy or sell in the Upstate of South Carolina? Then list your home with Prime Realty. We can deliver Prime Results in Prime Time.
As a boutique firm, we pride ourselves in delivering that personal touch for you. Not only will our dedicated agents make you their #1 priority, but we can also provide services that will accelerate the sale like home staging. Learn more on our About page or visit our inventory site that syncs with the MLS, Live Greenville.