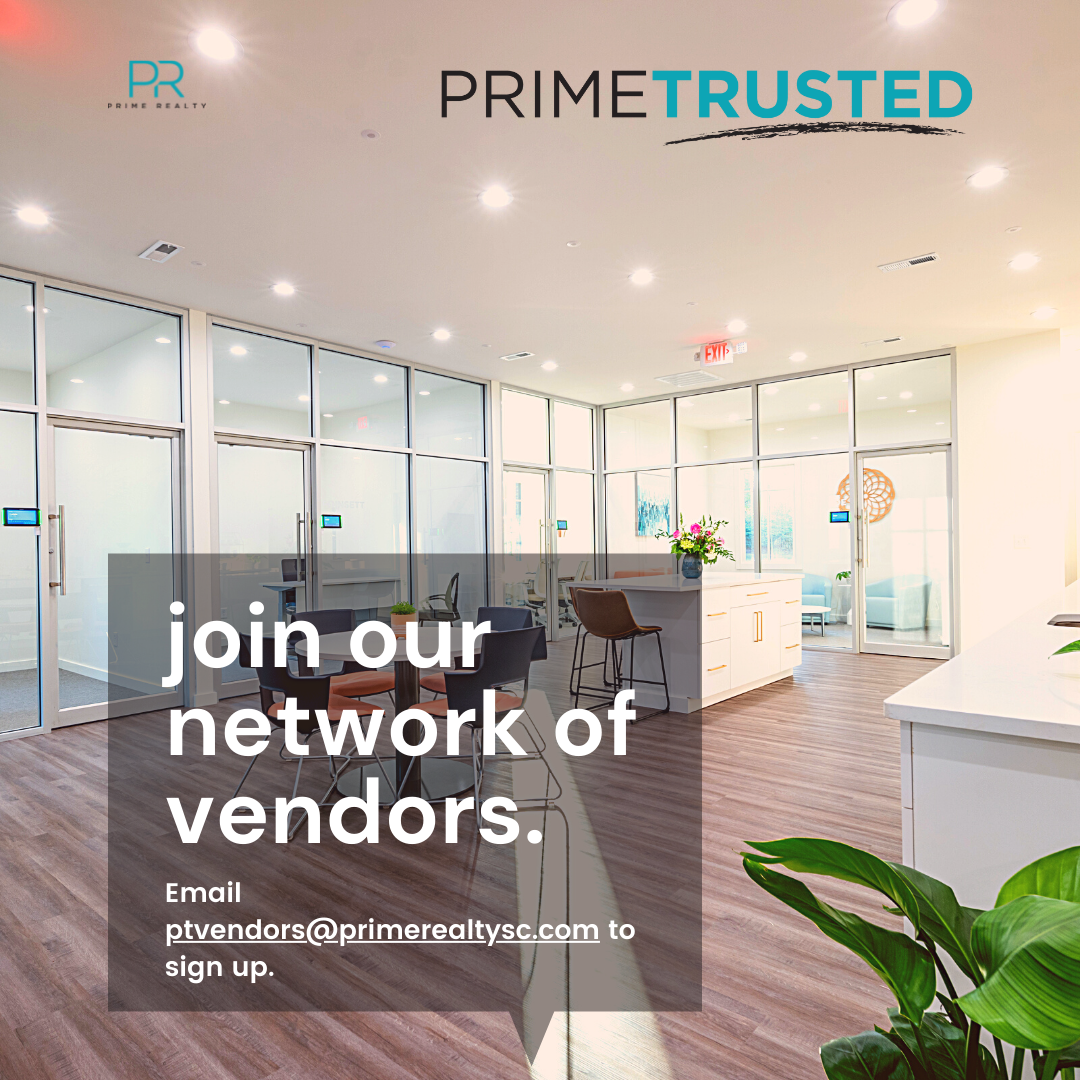 Prime Trusted was created with the idea of facilitating a network of vendors that could be readily accessible to not only our agents, but also our past and present clientele. Prime Realty continually aims to collect and distribute resources that are beneficial to our clients. Our vendor program allows us to assist our clients beyond the closing table.  
Within our network of vendors, we have 30+ businesses in 25+ service categories. The companies and individuals listed on the preferred vendors list have either provided service(s) or conducted work for clients of Prime Realty, for individuals that Prime Realty agents have met and have expressed satisfaction towards their service(s), or that Prime Realty has felt confident in utilizing their service continually. 
Who?
The Prime Trusted Vendors act as stakeholders in the agents' businesses by offering tools, world class service, and ongoing training to achieve individual and collective growth.  
What? 
Prime Trusted is designed to give vendors who are leaders in their own respective industry and who are in alignment with our values the opportunity to build relationships with our agents. 
When?
Starting February 2022. 
Where?
Headquartered in the Prime Office located in Greenville, South Carolina. The location of our network of vendors spans from all around the Upstate of South Carolina. 
Why?
Prime Realty takes pride in being able to support our local associates by helping facilitate relationships with reputable vendors, a part of the real estate industry. 
From Our Broker-in-Charge
Our BIC Ashley Lewis shares why our vendor program, Prime Trusted, was created.
"One of the most valuable things a realtor brings to a transaction is the network of people and businesses that they know and trust. We formed Prime Trusted to gather those [people and businesses] into one database to help our clients have quick access to some of our favorite businesses in the area. Naturally like any generated sheet, we do not have any control regarding their service or responsiveness, but if it is brought to our attention that select Prime Trusted vendors are not meeting expectations and not abiding by our Prime Trusted Commitment letter they have signed to be considered for acceptance, they will be removed from the program. So, please rest assured these vendors have been vetted, their licensure and insurance have been verified, and I would trust them in my own home. For many of the vendors included, chances are they have already been there, too!" 
Once the transaction is completed and you're now settling into your new home, let's say you are inspired to redo your bathroom, or want to upgrade your kitchen; your resource pool may be limited. If you aren't privy to the home buying process, the despair of "What do I do next?" is staggering. Nothing feels worse than not knowing where to find your next resource. With the Prime Trusted Vendor Program, you have access to all services in your area at the click of a button.
Q & A 
Where can I learn more? 
To learn more, visit the Prime Trusted Vendor page on our website at primerealtysc.com. There you can find our full and comprehensive list of Prime Trusted vendors for your reference. 
How to get started? 
To get started, submit your application to the firm and within two weeks, expect a follow-up from either the firm or our agent leader. 
What are the requirements? 
Your business must be in the Upstate of South Carolina, you must present documentation of licensure and insurance, and you must abide by our Prime Trusted Commitment letter.
How long is my membership of this vendor program? 
The duration of your 12-month membership begins at the time of acceptance. The membership is contingent on completing monthly charges and your ability to abide by our Prime Trusted Commitment letter. 
How will this benefit me? 
Brand awareness and exposure is monumental for your business when it comes to competition. The benefits to you and your business in its entirety are not disclosed below but continue reading to learn the basics. 
You would have access to our office meaning a few things: 
Display your promotional and marketing materials in the office.

 

Have marketing materials displayed periodically in the office.

 

Can host breakfast for agent training meetings and take 5-10 mins to share the latest news pertaining to your business.

 

Can schedule quarterly meetings with Prime admin

to assess agent engagements.

 
What differentiates your vendor program from the competitor's program?  
Our program was built through the established networks of our agents and company. With quality being at the forefront, the quantity of the vendors allowed in our program is heavily dependent on the vendor's quality of service.  
How is your list different from a Google search? 
The main difference between compiling and referencing your independent research versus ours is that we at Prime Realty have already taken care of the nitty gritty. Each one of our vendors undergoes a screening process, one that verifies they are bonded and insured, that they provide services within the Upstate of South Carolina, and that their company values align with ours.