Rebuild Upstate Builds Generational Wealth
Prime Purpose is Prime Realty's devotion to enhance our local pride and establish partnerships with local businesses in our community so that we can bring those resources to our audience through our partnerships. "Rebuild Upstate is honored to work collectively with Prime Realty to strengthen our community – one home and one family at a time."
Rebuild Upstate's focus to preserve homes by utilizing local service providers and community volunteer groups is like our mission at Prime Realty. Through our Prime Purpose initiative, we can rally volunteers, sponsor events, and deliver local resources and service providers to our community partners, Rebuild Upstate and Speak for Animals.
Rebuilding More than Homes
Who is RU?
Rebuild Upstate's mission is to retain homeownership to build generational wealth for families located in South Carolina, specifically Oconee, Pickens, Anderson & Greenville County. Rebuild Upstate repairs the houses of our low-income neighbors to make homes safer, healthier, and more livable.
As Prime Realty's newest Prime Purpose partner, we thought posting before/after projects would be a great way to showcase Rebuild Upstate's amazing efforts and accomplishments! This house here belongs to a Marine Corps veteran who performed his own repairs before he no longer could be due to the physical demand.
Why home Repair?
The answer is simple: the best home for an at-risk homeowner is the home they already have. According to Rebuild, "When using volunteers, the average affordable housing home costs $120,000 to build. For the same investment, Rebuild Upstate can repair and rehabilitate 20 existing homes. This home received multiple health and safety repairs including roofing and flooring. ⁠Donations are an important part of keeping our neighbors safe. You can donate here.⁠"
Prime Realty's Build Day at Anderson Family Home 
On November 5, Prime Realty agents visited Mrs. Anderson's home to continue repair work organized by Rebuild Upstate. As a real estate company, it's important to our whole organization to serve the existing homeowners of our community. Our partnership allows the opportunity for our two organizations to coordinate an event with a shared mission. In our case, we're a real estate company working with a non-profit focused on retaining home ownership and increasing generational wealth. A win win.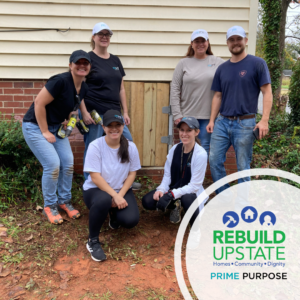 "It was such a great day.  Loved working with other Prime agents on this project.  It was nice to be hands on and actually help build something for Mrs. Anderson's home." Tracy Tate
Their Process
"Rebuild Upstate believes the best home for a homeowner who is at-risk in the affordable housing crisis is the home they already own. To that end, we provide volunteers and materials to make homes safe, healthy, and sustainable for our neighbors in need. By exclusively focusing on home repairs and improvements, we allow residents to remain in their homes to maintain stability and dignity."
RU is proud to help vulnerable populations through our process. Vulnerable populations include veterans, older adults, people with disabilities, and families with children.
Prioritization Criteria: Exploring the Applicant Process
Submit your application
Rebuild Upstate will determine eligibility
Households that have applied move through the funnel as they meet prioritization criteria.
Repairs happen for the household with the greatest need that can be met with Rebuild's current available resources.
Types of Repair Projects:
Decking
Electrical updates
Floor Repair & Replacement
HVAC
Mold Removal
Plumbing
Roofing
Ramp installation
Standing shower installation
Stair repair & replacement
Catch up with Our Partner
Just 13 years after their first build, Rebuild Upstate completed repairs on its 1,000th home. Rebuild Upstate is enhancing lives here in the Upstate, one repair at a time. Most recently in 2022, they completed the most repairs they ever have before standing at 582 projects, 109 homes all while utilizing 825 volunteers. We're so excited for our next build day scheduled in March! Learn more about our Prime Purpose partner on our website.