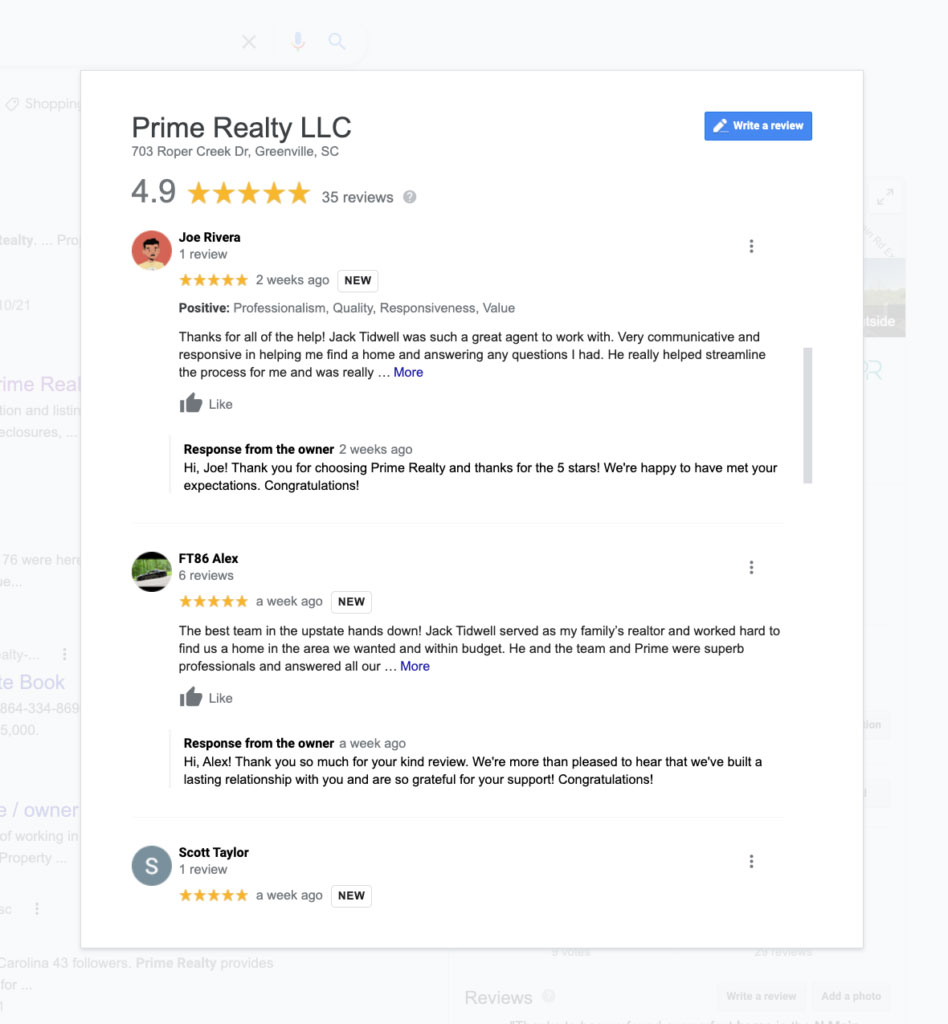 At Prime Realty, we strive to provide exceptional service that exceeds your expectations. We serve the Upstate with Residential and Commercial services, and most recently, partnered with Prime Realty Property Management. We can assure you that our agents are dedicated to serving you. We wouldn't be where we are today if it weren't for the support from our community.
The support we have received per our Google reviews showcase our commitment and so that is why we wanted to showcase it in this blog post. Most of these reviews have been premiered on Prime Realty channels, but for the sake of having room on a template, we usually condense the full review. Continue reading to find the full Google reviews. We look forward to connecting with you and would be honored to serve you. If we've had the pleasure of working with you and you have not yet submitted a review, you can do so here!
"Matt Poole was fantastic to work with. He was quick to respond and communicate with questions my husband and I had. He was great at explaining the processes we dealt with and helping us break down any confusion we had. I felt he was always in our corner, working to give us sound and honest advice and direction. We are very happy with our new land purchase and are excited to help Matt in any way we can moving forward!" Sara erb
"I highly recommend Matt Poole to help find your new home! He did a fantastic job of walking me through house after house with great knowledge and patience. Even though It was a very busy season, he was always ready and made the process so much easier! He worked flawlessly with the lending companies as well as the sellers to help bring things together seamlessly. You will not regret having Matt on your side from beginning all the way until you get the keys to your new place!" Parella Lewis
"Courtney Orr and her staff were nothing short of AMAZING! It took us a year to search for the perfect home. They were so patient, and knowledgeable and kept us in the loop. Very easy process and we never once thought we weren't going to get the house we always wanted." Lenny-man Raymond
"Courtney Orr is a dream to work with! She made selling our home so smooth and so easy. She also helped us find our dream home and had our offer accepted within 48 hours (with multiple offers on the table) Courtney is so kind and really makes a connection with her clients. She truly cares for you; it is obvious she loves what she does! She is professional and always available when needed. I have nothing but great things to say about working with Courtney and Prime Realty. Highly recommend, you will not be disappointed!" Rebecca Davis
"Courtney Orr is the best realtor we have ever used!! She is very professional to work with; very knowledgeable of the area and puts her clients' needs first. I have and will continue to recommend her to anyone who is relocating in and to South Carolina Thank you Courtney." Lisa Ortiz
"I had the most amazing time listing my house with Kathryn Knott. She explained everything in detail during the listing process, marketing the home with open houses, and juggling competing offers. Throughout the diligence period, inspection, and repairs, Kathryn was very attentive to my questions and kept an open line of communication with the buyer and their agent. I would highly recommend Kathryn and the team at Prime Realty! I will definitely be a repeat customer in the future!" David Hanor
"We worked with Kathryn Knott from Prime Realty and she helped us find a home in Greenville NOT ONLY from afar (we were in TX) but during the most isolating part of the COVID pandemic in 2020. Kathryn was literally our boots on the ground and sent us live videos of every house we were interested in as they went up on the market. She was everything you want in a good realtor – hands on, communicative, responsive, honest, and warm. She went above and beyond to help us find the perfect family home during a very tough year to buy a house and move cross country! Thanks to her we found our perfect home in the N Main area. We recommend Kathryn 100%!" Janet LeBlanc
"I am new to the area and was interested in purchasing a new-build property but thought I could go it alone. I quickly learned I needed representation and had no idea what I was getting into. Mary Krcelic at Prime Realty was a complete stranger to me. I did not seek her out nor did she find me. She just happened to be at the time an incredibly kind soul who agreed to talk to a stranger about all of her questions with expectations of nothing else in return. You see, I reached out to a friend in the area and asked if he knew of anyone and he and Mary were good friends from church. He asked her if she would mind talking to me about a few things as a favor and she agreed. A 90 mins long conversation later I was so floored by the genuine spirit of this woman that I knew I would love to be her client. Though I was talking to another rep who was casually sending me property listings, I signed on with Mary and am so glad I did. It's been 7 months since I purchased my home during the build process and closed in February (now April) and she has been there for me for every neurotic question, change order, and happy progress photo; day or night. I am so happy to have met her. Not only has she been an amazing Realtor partner, but I am happiest to know I have made a new, dear friend. She genuinely cares about her clients, is really good at what she does and is just an overall amazing person to know. She is a busy, experience rep but even in her busy schedule, she makes you feel like you're her only client. I can't say enough nice things about her. I would 100% recommend working with her." Zeynep Minareci
"What can I say about Amy? The process for my home was a little rough. Amy was there every step of the way even late nights when I had questions. When things were looking down, she was a calming voice. I know that I would not made it through this without her. She had my back the whole time. I highly recommend her she is truly amazing, and she is great to have on the team." Ashia Mitchell
Now that you've read several reviews firsthand, Prime Realty encourages you think about us the next time you need buying or listing services. We look forward to connecting with you and if we've had the pleasure of working with you and have not yet submitted a review, you can do so here!