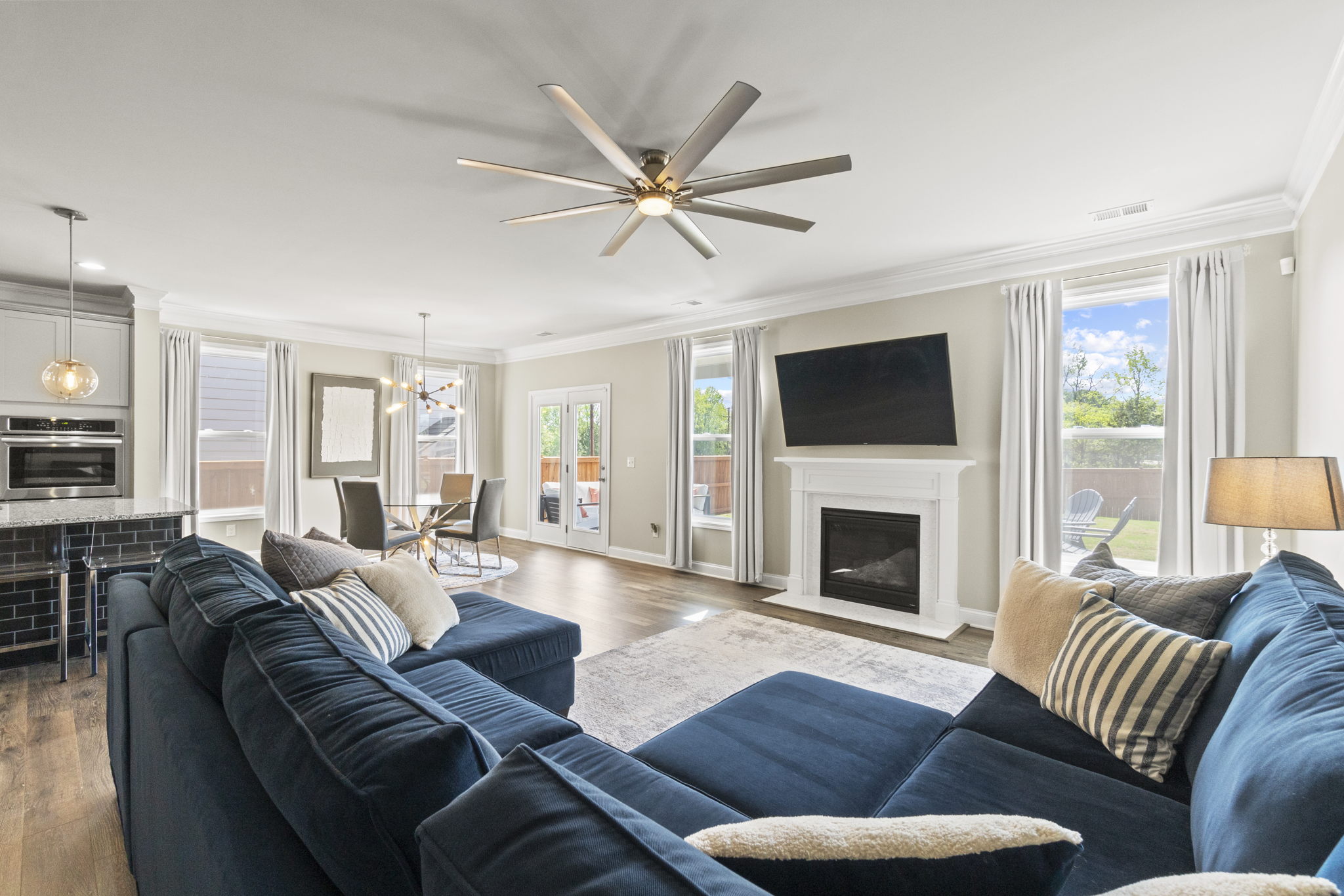 Holiday Home Staging Do's & Don'ts
No matter the holiday, it's important to keep it simple when it comes to home staging during the holiday seasons, especially before a sale.
Decorating for the holidays is something the majority of home owners look forward to and it tends to be no different when the home is for sale. We're here to tell you that if your home is for sale, you'll want to remove your holiday decor. Here are some do's and don'ts to consider:
Do's
For every holiday decoration, switch it out for "season appropriate" decor. Since it is the fall season, swap your orange pumpkins for some potted Mums.
Swap out the holiday scents for season scents like Pine and Marshmallow Fireside
It's important to remove these decorations prior to taking the MLS photos. Once they have been taken, you can revert back to your holiday decorations!
Don'ts
Don't leave inflatable decorations that actually double as obstruction of views for your home.
Don't overwhelm visitors with obnoxious holiday scents that will divert their attention away from your beautiful home.
Don't let your Halloween decorations scare potentials buyers away!
Interior Designers and Home Stagers are similar but also, very different.
The Real Estate industry contains several professions and services that are instrumental to the success of the transaction. Several buyers and sellers are familiar with the importance inspectors, lenders, and appraisers hold to the transaction. But what about the individuals that arranges or stages the furniture? These individuals are referred to as home stagers.
Different from interior designers, home stagers must appeal to the buyers by personalizing or depersonalizing the space in preparation for the sale. Prior to designing, an interior designer must consider the customer's individualistic or familial personality and lifestyle to deliver a tailored environment perfectly suited to them. 
What advantage do staged homes possess?
The goal of staging homes is to emphasize the home's architectural details and best assets. This allows buyers to effectively gauge the potential that the new house could offer them.  
The time the house stays on the market is significantly reduced when a stager is introduced into the space. It allows the buyers to envision their lifestyle easily and that is harder to do if the home is empty. According to NAR, "Statistics have shown that houses that have been staged average 42 days on the market vs. non-staged homes that can average 142 days on the market."
The Home Stager Steps in
A home stager's main competition is the staged homes that home buyers witness from watching the HGTV channel. Many home buyers are inspired by the overall aesthetic captured through the screen they're regularly stationed in front of, and often find themselves on home décor retail sites. 
"A home stager must know the difference between decorating to sell and designing to live. There must be a perfect blend of eye-catching with mass appeal," according to Erin Halperin, an agent at Prime Realty who happens to have extensive experience in the real estate staging world. 
Many home stagers don't ever step foot inside the space they're tasked to stage, let alone meet the prospective buyer since there is rarely only one, especially at the start! If the home stager does not have access to personnel on either side of the transaction, I asked Erin how she finds inspiration:
"Inspiration comes from places such as art, Architectural Digest and Elle Décor magazines, catalogs, but also social media. It serves one purpose to me only which is that it allows me to see designers and architects making beautiful spaces all around the globe, that I would never know of otherwise."
How Social Media is at Play
The beautiful thing about social media is its accessibility. Home stagers do not have to follow all industry-related social media handles to be successful. All social media platforms have the option to filter through their respective platforms through categorical hashtags. So, if a home stager needs specific inspiration for a certain aesthetic, say boho style or eccentric, they can find an ample number of options through that hashtag. With some hashtags collecting over 500K posts within an hour of when it was first posted, users all around the world can engage with your post!  
Selling a Lifestyle, not Just a Room
What are the benefits of staging your real estate listing? 
Leaving the task to the buyers of envisioning their life can be a mistake. They're not totally to blame. Who could really walk into a space with no furniture and still be able to envision themselves in the house? "Staging a home helps consumers see the full potential of a given space or property," said Jessica Lautz, NAR's vice president of demographics and behavioral insights. 
Today, Erin stages smaller homes by incorporating pieces that sellers already have coupled with items from her small collection of accessories such as rugs, pillows, and lamps. Erin believes it is easy to walk into an empty space and furnish it, however, she likes the creative challenge of taking existing items and rearranging a room. "I love re-envisioning a room to its fullest potential to attract a buyer. The greatest compliment I get is when a seller says "Geez, well now I want to stay!" 
Quarantine changed how people made changes in their homes based on their new way of living. Every home stager is different. Here's how Erin approaches real estate staging in terms of trends: 
There are several more trends in both categories but in regards to Erin's approach, the trends listed are what she's paying attention to during her staging appointments. 
Anti-trends: 
Open shelves in kitchens

Impractical because if you cook often, it's hard to maintain

 

Easy + cost-effective but impractical

Gray as the only color throughout the home versus as an accent color, infused with other colors

Farmhouse/Barn Doors

There's a place for the Farmhouse style and its attributing features but it's not for every home
Design Trends: 
Built-in appliances

Less industrial kitchens; hoods for example

Backsplashes are either continuing on the countertop

or

tiles are stacked vertically versus horizontally

 

Color, florals, bringing natural elements inside to "inform" the color palette & create rooms that reflect the people living in them

Black accents are used to make everything pop
Key Takeaway for Home Stagers
Home stagers must be very sensitive to a seller's attachment to items in their home. It's their job to help the sellers realize why they want to sell and that everyone has a different style preference.
It's also important to note that real estate staging does not have to mean bland neutral. Personality makes a home memorable and shows a buyer walking through the home what kind of creative potential exists for them to make it their own. "Clean," "Bright," and "Flow" are the mantra words that I use regularly when staging.
Prime Realty is Eager to Assist the Upstate of South Carolina
Are you looking to buy or sell in the Upstate of South Carolina? Then list your home with Prime Realty. We can deliver Prime Results in Prime Time.
As a boutique firm, we pride ourselves in delivering that personal touch for you. Not only will our dedicated agents make you their #1 priority, but we can also provide services that will accelerate the sale like home staging. Learn more on our About page or visit our inventory site that is in sync with the MLS, which means as soon as a listing enters the market it will be featured on our Live Greenville site.